New York All-Stars featuring Eric Alexander / Seamus Blake / Mike LeDonne
Ubuntu Music is delighted to announce the re-signing of The New York All-Stars (NYAS), featuring tenor sax monster Eric Alexander, along with the exceptional Seamus Blake (tenor sax) and the incomparable Mike Le Donne (piano/organ). The live album, recorded in London, will be released in November.
Although these world class musicians have a deep, mutual respect for each other, they had never played together. A series of unique circumstances made this possible and the result is breath-taking.
The New York All-Stars play energetic and swinging music at the highest level, presented with the utmost professionalism and uninhibited enthusiasm, which has given them the title of "Jazz at its Best".
The Financial Times jazz critic, Mike Hobart, having seen one of the shows, wrote, "Both tenor players follow form precisely, articulate closely, and play to the limits of exceptionally fluent techniques."
Dave Gelly, The Sunday Guardian/Observer jazz critic, wrote, "For sheer intensity and overflowing invention, both individually and together, they're in a class of their own."
Eric Alexander is one of the most important soloists of the current modern straight-ahead jazz world. His accolades are many and he has appeared on over 75 albums--as leader, collaborator and sideman--with big names like Steve Davis, Jim Rotondi, Vincent Herring, Pat Martino, Jimmy Cobb, Cedar Walton and McCoy Tyner.
Joining the line-up is saxophonist and composer Seamus Blake, who is recognized as one of the finest exponents of contemporary jazz. His music is known for its sophistication, bold improvisations and 'sheer swagger'. Seamus has performed with exceptional artists, including John Scofield, Antonio Sanchez, John Escreet, Gonzalo Rubalcaba, Chris Cheek, David Kikoski and Alex Sipiagin. Seamus has also appeared on more than 75 albums.
Pianist/Hammond organist Mike LeDonne has played with many of the greats in jazz, including Benny Goodman, Sonny Rollins, Bobby Hutcherson, Milt Jackson, Stanley Turrentine, Dizzy Gillespie and many others. He has performed with Eric Alexander for years and appeared on more than 120 albums.
Rounding out this one-of-a-kind line-up is Erik Söderlind (guitar), Aldo Zunino (bass) and Bernd Reiter (drums). In 2015 Erik received The Guitar People Prize Sweden, an award given to the best guitar player in the country. Aldo's virtuosity, warm sound and impeccable beat makes him one of most sought-after jazz bassists. And Bernd is the go-to drummer in Europe's straight-ahead jazz scene.
Eric Alexander explains the background to the project: "This recording project was particularly special to me as it afforded the opportunity to share the bandstand with Seamus Blake, a saxophonist of the highest calibre for whom I have the utmost respect. Although we haven't had the chance to work together much in the past, this not only made it possible for us to hit together, but also documented the music and captured the joy we had competing with one another out of mutual admiration. In addition, the rest of the ensemble-Mike, Bernd, Aldo, and Erik--was absolutely top shelf! Martin Hummel and his label Ubuntu Music deserve tremendous credit for having the foresight to see this project through and for trusting the musicians to put together a program that is engaging and in the tradition of the great live jazz recordings that fans so adore. Mr. Hummel and Ubuntu are going to be a powerful force in the record business for years to come."
Seamus Blake continues: "It was a great and pleasant surprise to be invited by Eric Alexander to play and record live with him at Pizza Express. I have been a fan of Eric for many years. It was also a pleasure to work with Martin at Ubuntu Music. He helped us make a great recording."
And Mike LeDonne concludes: "The combination of Eric Alexander and Seamus Blake playing in a two-tenor front line is perfect because it fits the classic "sax battle" format while at the same time bringing it forward with their unique and complimentary styles. I truly enjoyed every minute of participating in, and contributing to, the music captured on this recording. It was a pleasure getting to meet and work with Martin Hummel on this project because he is not only committed to putting out great music, but he also truly respects the musicians he's working with and is humble enough to allow them to be included on the sound and production of the recording. When this kind of synergy takes place the quality of the performances is allowed to reach the highest level."
Martin Hummel, Director of Ubuntu Music, had the last word: "In 2018, we released the first live recording of the New York All-Stars, featuring Eric Alexander and Harold Mabern. And one of my significant ambitions for the Label came true. When Eric and I began planning for the next project the following year, Harold's health precluded his joining us and we needed to come up with something magical. Seamus was living in Paris and Mike just so happened to be available for the tour dates, so we were there. The ultimate magic of this live recording is that these three guys had never played together, although they knew each other and had great respect for each other. Without even a single rehearsal, they got up on the first night, literally blew the roof off the place and got progressively tighter over each of the three nights. The last night was the night of the finest music, which is captured on the upcoming album. Eric's long-time friend, Ian Shaw, interviewed Eric that day and, with a nod and a grin, Eric invited Ian to guest on the last night. Ian graciously accepted the invitation and they performed Lionel Richie's 'Still', to an adoring audience and which will appear on the album. 'Live Encounter' captures the unadulterated improvisation, the unabashed raw energy and terrifying excitement of three main international superstars who challenged each other with each and every note, pushed each other to the absolute max. They sailed so high with the unwavering support of their brilliant band that, by the end of the night, you had to scrape the musicians off the ceiling and pry the audience out of their seats. And ultimately, isn't that what jazz is all about?"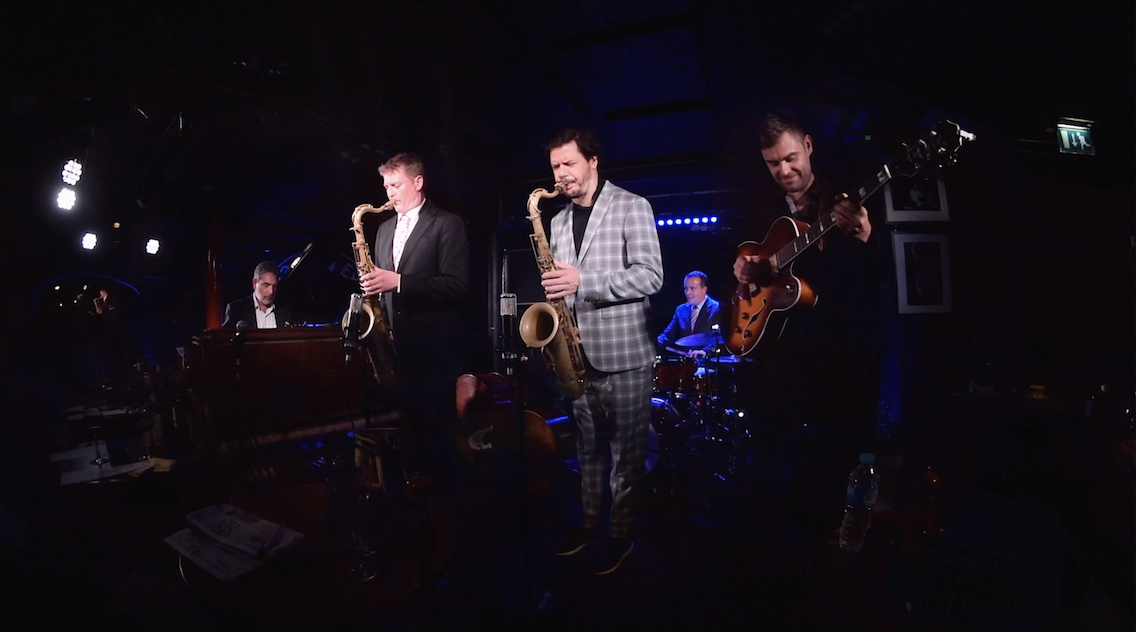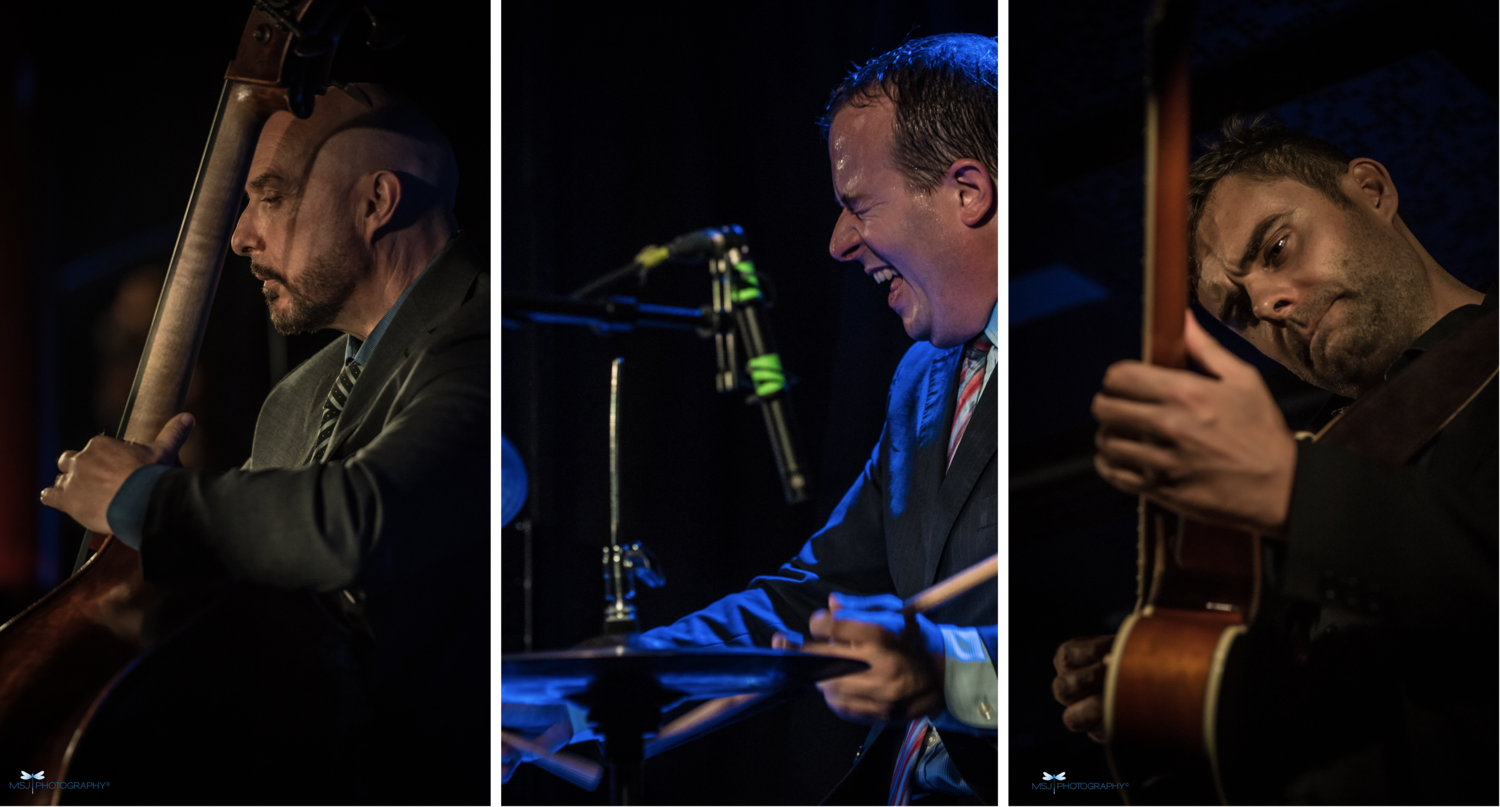 NYAS 'Live Encounter' Album Showreel